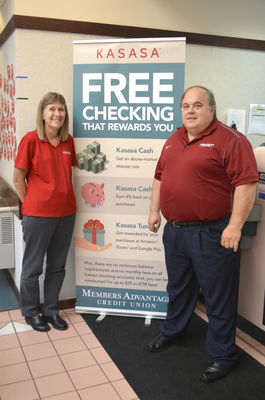 Began by just seven members of Queen Of All Saints Catholic Church in 1962, the credit union has grown to 9,000 members and $96 million in assets. Throughout its growth, it has seen a move from 2424 S. Franklin St. to 3064 S. Ohio St. in 1990 and the addition of two branches on 947 S. Woodland Ave. in 1996 in Michigan City and 6170 U.S. Hwy. 6 in Portage in 2010.
The name ultimately changed to Members Advantage Credit Union in 1997, and so did the make-up of the members. At first, the credit union only served Queen of All Saints parishioners and, later, members of other area churches together with employees of specific businesses. Today, anyone who lives or works in La Porte, Porter or Lake County is eligible to join.
Just like any other full-service financial institution, Members Advantage Credit Union offers a wide variety of products and services. Members have access to first and second mortgages, auto and recreational vehicle loans, home equity lines of credit, signature loans, interest-bearing checking accounts, money market accounts, direct deposits; platinum, gold and classis VISA credits cards, shared branching, an ATM/Debit Card, Online Banking, Online Bill Pay and more. Additional perks of membership include an investment service center, free financial counseling, ID Protect which offers fraud protection on accounts, a Penny Panda Savers Club for kids, a Member Referral Program that rewards both referring and new members and access to a Shared Branching Network that is the largest in the state.
"If you haven't considered a credit union, you should," said Beachnau, adding that in many cases the offerings at a credit union, such as low rates on auto loans, credit cards, home equity loans and mortgages, are at a better quality than other financial institutions.
Kasasa checking accounts is one new product Members Advantage Credit Union rolled out May 1. Members qualify through ATM/Debit Card use, logging into online banking and signing up for e-statements. Then, they choose their reward of high interest earnings, cash back on purchases or rewards to spend at Amazon.com, iTunes or Google Play. In addition, Kasasa is free with no minimum balance requirement or per check charge, and members can also earn ATM fee refunds nationwide.
"It's a wonderful product for a person that wants more than they are getting at their current financial institution. No one else in this market can offer what we offer," said Beachnau. "Any ATM can now be your ATM. It's the best kept secret. We're trying to get the word out."
He added that any existing Members Advantage Credit Union account can easily be converted to a Kasasa account as well.
Members Advantage Credit Union offers more than services and products; it also gives back on a regular basis to the communities in which its offices are located. The credit union offers two $1,000 college scholarships to high school seniors and two $500 college scholarships to college students each year.
Members Advantage Credit Union has made regular donations to the Salvation Army of Michigan City and the Portage Food Pantry, and is a repeat participant of Toys for Tots each holiday season.
For the past 12 years, it has provided volunteers for Junior Achievement of La Porte County, and Beachnau serves as secretary for the Portage Kiwanis Club. Just recently, it has supported a bike event at the Michigan City Police Department and a 5K Run/Walk at St. Stanislaus Catholic Church.
At both of its locations, Members Advantage Credit Union offers Shred Day events in conjunction with the support of a non-profit, such as the collection of food items for the Salvation Army of Michigan City. There's the annual Members Appreciation Day event each year with members enjoying a free lunch and other perks, and the popular Penny Panda Savers Club free family movie showing every holiday season.
The credit union employees 28, with a large majority having more than a decade of service. Many members of the Board of Directors and Supervisory Committee have also been affiliated with Members Advantage Credit Union for several years.
Beachnau also touched on other advantages of the credit union, such as "a very thin level of management. We almost have a one-stop shop. We can service members pretty quickly."
He is looking forward to the launch of a new website for Members Advantage Credit Union in August, which members will find more user-friendly and the ability to apply for a loan quickly and efficiently online.
Members Advantage Credit Union installed a "Happy or Not" button whereby anyone visiting the Ohio Street or Portage lobbies can rate their experience by pushing the appropriate smiley face button. Last year the average response was 97 percent very happy.
Beachnau realizes that "satisfied members are our best advertising" and looks forward to keeping that the status quo of the future at Members Advantage Credit Union.
For more information about Members Advantage Credit Union, call (219) 874-7943, visit www.macuonline.org or look up "Members Advantage Credit Union" on Facebook
Written by  KIM NOWATZKE for The Herald-Argus; Photo from Herald-Argus. 
Click here to read the article and see photo on the Herald-Argus website.