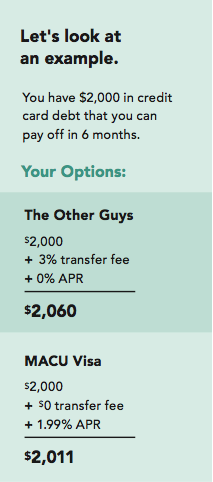 With a MACU Visa Card, unlike most, you will pay no transfer fee and just 1.99% APR on your debt for the first six months. And, with our low-interest credit card, you pay as low as 10.00% APR on all other transactions, saving you a lot of money over other high- APR cards.
Buyer Beware
Not all balance transfers are created equal. Before you get swayed by 0% APRs on balance transfers, you have to read the fine print. Most cards charge a 3% - 5% transfer fee when you make the transfer. So, 0% definitely does not mean free. In fact, in many cases, that 0% offer will end up costing you more than a balance transfer to a MACU Visa.
If you are ready to save a bundle on interest, call your local branch or stop in today.
All credit card limits are based on your personal credit history. Other restrictions may apply. All rates quoted are subject to change without notice. APR rate then reverts back to assigned rate after six months. Interest calculations are estimates. Actual finance charges will vary according to your payments and your credit card's terms. All new purchases are subject to assigned rate.