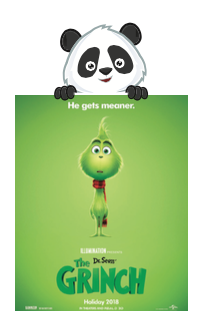 This year's movie is the new adaptation of the Grinch, based on Dr. Seuss', The Grinch Who Stole Christmas. Universal partnered with Illumination Entertainment (creators of our favorite minions) to turn this classic story into a new animated movie.
To help our little pandas celebrate a year of savings, Penny Panda members will not only get to enjoy the movie and complimentary popcorn and drinks, but they will also get to visit with Santa! Take that, Grinch! This free event is open to the Penny Panda account holder and his or her parent. More information will be released closer to the event.
If your child or grandchild doesn't have a Penny Panda savings account, stop by MACU and get one started to join the fun!